Classical Pilates
Contrology – this is what Joseph Hubertus Pilates, who came to New York in 1926, called his sophisticated classical Pilates system.
What does this mean in detail? Classic Pilates is characterized by "corrective exercises." You will receive tactile as well as verbal feedback, due to the equipment and the teacher, so that you immediately move in your correct biomechanics and do not train further in imbalances. In classical Pilates and in the UpRight! Mindset posture school, your neural system will dock with your individual biomechanics again correctly with the correctly executed movement through repetition.
Our Offer
Single and duo lessons (also available online)
on Pilates equipment such as the Reformer, Cadillac, mat, tower, chair and small devices. To Pricelist
Trio classes
Trio classes are for those people who already have previous experience in singles or duo. There is also the possibility to get together as a family or friends and learn Pilates on the apparatus together. To Pricelist
Group lessons (only online right now)
either as a classic pure mat training, as mat training with additional use of the tower or as a studio class corresponding to the single and duo session. The number of participants is limited to three in the basic level, and increases to six in the beginner, intermediate and advanced levels. To Pricelist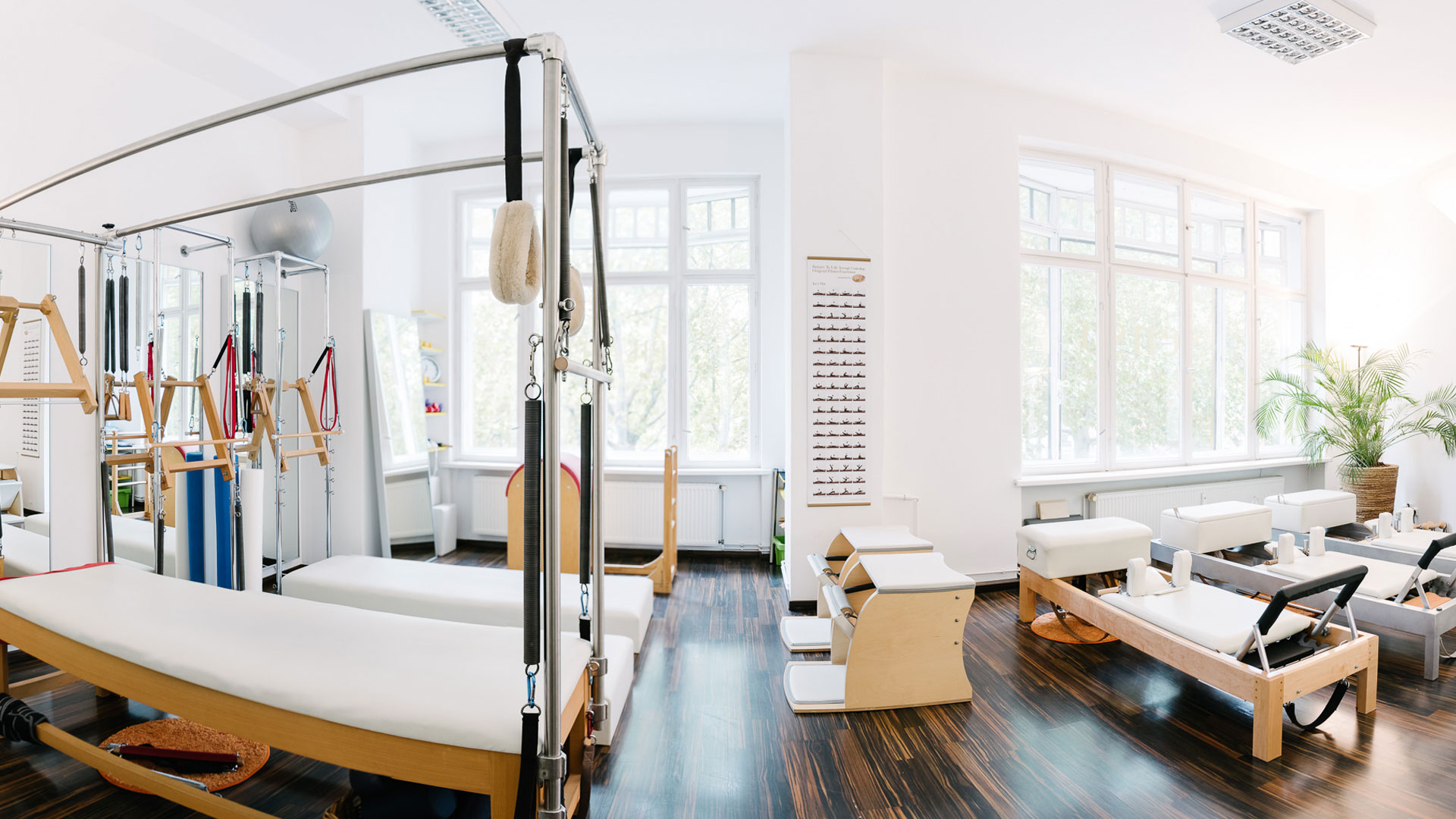 Newcomer mat training (only online)
The mat training an introduction to getting to know Pilates as well as the posture school. A better own body perception, the correct centering, the feeling for when the spine is in the correct position, where the powerhouse is and how to perform the movements correctly are among the core topics of the training for Pilates beginners.
The Senso trained trainers correct every single movement. More and more, the right movement flows into everyday life. Even experienced Pilates enthusiasts use this course as a refresher. However, the individual training sessions are most effective for this, as the focus is 100% on you. To Pricelist
Classic pure mat training (only online)
50 minutes of mat training means to practice the pure classical Pilates sequence according to Joseph H. Pilates in order to integrate it into your own natural movement pattern. The routine sequence of the mat exercises allows even better concentration on one's own body and a stronger attention to the positive correct changes in the body. To Pricelist
---
Coaching and nutritional counseling
We are offering our clients nutritional counseling based on the books from medical medium Anthony William.
Read more.
UpRight! Mindset – Posture School, formerly known as BodyArc®
You will receive a very individual "instruction manual of your body", tailored to your individual needs, to release energy resources that would otherwise be used up by poor posture. Energy gain for the essential things in your life is released and thus the quality of life is increased.
All movement patterns that lead to immobility or even pain are explained to you by means of biomechanical processes. During the individual lesson we pay special attention to your posture patterns.
The one-to-one training is the queen of the sessions, as you are the sole focus with your needs. However, the duo or trio also has valuable benefits, as the concerns of your "fellow posture students" will shed light on topics that may be equally relevant to you.
Depending on your needs, we use different posture-improving training equipment to support you on the way to your new posture efficiently and perhaps with unexpected effects. To Pricelist
The Magic Circle – Exclusive Membership
In the Senso Magic Circle you train in all groups with a one-year membership (49,00 € per month) in combination with the purchase of a 10er card for only 6,25 € per hour! Learn more


---
Senso on the Go
The perfect template for your training at home or wherever you are. Your individual training with you and your trainer will be recorded on film. We will send you a link where you can watch or download your video for 30 days – alternatively, we can transfer your personal video to a USB stick (for an additional charge or you can bring your own USB stick)
Or you can simply record your lesson for your personal use directly on your device.
Senso "Pilates on the Go" is another reason to create opportunities that you do not discuss with yourself, but you belong to the sensonauts who manage to press the ultimate "Go-Button" at least 3-4 times a week.